R021
Nimrod Hall (continued)
Dr. Smith conveyed ownership of Nimrod Hall to his wife, Susan E. Smith, in 1885. He died in 1888. Susan conveyed the property to her daughter, Annie Byrd Watson, who married Edward ("Teddy") Alexander Watson, an Englishman (Fig. R021j; see [R918] for more about the Watsons) a deed of marriage settlement between them was dated 5/14/1891. For a time they managed Nimrod together; they are named as proprietors on Nimrod stationery (Fig. R021k). The stationery shows that the Smiths and Watsons also owned a second property in Bath County named Hunters Paradise [S174] (Fig. R021l).
The Watsons were devoted to the sporting life, as Dr. Smith had been. The Nimrod dinning hall photographs [S173] show abundant horses (Fig. R021m) and hunting dogs. In this time there was a track for harness racing in the bottom land between Nimrod and the river; its outline could still be seen in the hayfield that replaced it, well into the twentieth century (Fig. R021n. This is the same area seen in Fig. R021d). When I was young Nimrod had a second barn, the "lower barn," on the edge of this field, but it burned many years ago. I learned only recently that its real name was "the race barn." Gordon Blair [R917] said of the 19th century Nimrod guests "...The ladies had but little by way of interesting activities. They gathered informally for conversation in the parlor. I do not remember seeing any card playing; and we had neither golf nor tennis..."
However the sporting life is risky, and the Watson's venture failed. They had left Nimrod by 1904 when the property was sold by A. W. P. Watson (see R918). Susan Smith died in 1921, Annie Byrd Watson in 1913. They are buried with Dr. Henry Smith in a tiny family plot inside a wrought-iron fence (Fig. R021o), about a quarter mile up the road SW of Nimrod. Teddy Watson is buried in Lynchburg.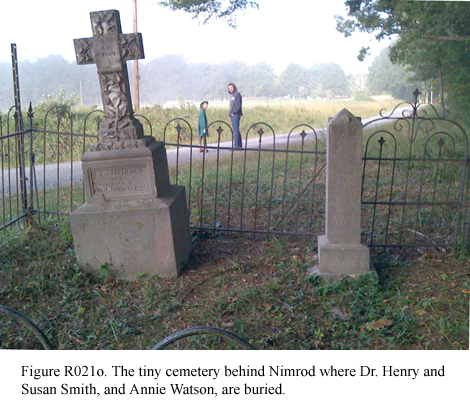 Nimrod Hall (about 150 acres), together with an approx. 850-acre tract across the river known as "The Old Porter Place," was sold to Charles E. Kloeber, Jr. of New York in 1904 (see [S175] about Kloeber). Kloeber moved to Bath County (his son was in a school class taught by Lewis E. Wood) but his former employer, the Associated Press, made it worthwhile for him to return to them. On 12/13/1907 he auctioned off Nimrod's furnishings (Fig. R021p), then on 12/19/07 he sold Nimrod Hall through a J. D. Lowman to Lewis E. Wood for $4900 in cash (DB23-214). This first tract of land Lewis Wood bought ran east to what later became Camp Nimrod for Girls (Fig. R021c), but it did not include the site that became the Boys' Camp. The property ended where the Boys' Camp begins, just beyond the pond dam, which existed then; the water ran a grist mill whose stones survive in the Nimrod lawn.
Lewis Wood bought additional property, this time from Teddy Watson and his second wife Maude in 1916 (DB28-324) and 1918 (DB31-6) to enlarge his Nimrod holdings. The boundaries of these purchases are shown in Fig. R021c. The 1916 tracts included most of the Boys' Camp area (but with the stipulation that "...the said Party of the second part [Watson] and his guests...[retained] the right and Privilege as a Perpetual easement...to fish in and boat upon what is known as the 'blue hole' in CowPasture River..."); and a large plot of mountain land SE of the highway. The 1918 purchase added to Lewis's holdings of wooded land across the highway.